Interested in having your team featured on our Home Page?
If you would like your team to be considered, simply write a description of what makes it special and submit it along with a digital image of your team to
[email protected]
Submission must carry My Team My Bank in the subject line and include the name, mailing address and daytime phone number of the person submitting the information.
IMPORTANT INFORMATION ABOUT YOUR SUBMISSION
By submitting your team's description and image, you acknowledge:
That submissions may be edited for content prior to being posed on Team Capital Bank's web site.
That all persons described, named, pictured or otherwise identified are aware of your submission.
That all persons described, named, pictured or otherwise identified grant Team Capital Bank the right, unless prohibited by law, to use their names, voices, pictures and likenesses, without compensation, for the purpose of advertising and publicizing the products and services of Team Capital Bank, in perpetuity.
That all persons described, named, pictured or otherwise identified will indemnify and hold harmless Team Capital Bank, its Directors, shareholders, officers and employees from any and all claims, actions and judgments that may arise as a result of the submission.
That Team Capital Bank is not responsible for errors, omissions or inaccuracies in content.
That all submissions become the property of Team Capital Bank and may not be acknowledged.
Shannon Daley Memorial Fund
My name is Tom Daley, and five years ago, I watched my five-month old daughter, Shannon, die in front of me due to a rare form of heart disease.
Following the anniversary of Shannon's death, I was approached by the commissioner of the Readington Basketball League. Apparently there were a number of my neighbors and area residents who had expressed an interest in creating a charity named in memory of Shannon.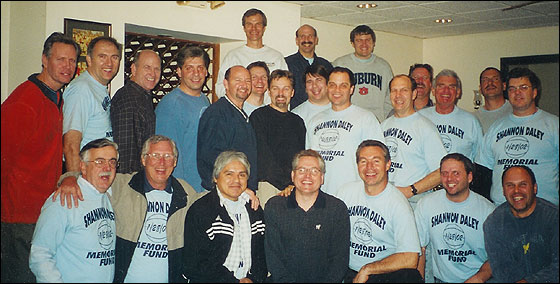 I agreed, and that is how my team got its start.
It began with a fund-raising basketball game at Hunterdon Central High School. We faced off against a group of former NBA players who graciously volunteered their time, and all proceeds from the event benefited two seriously ill children we were able to identify. The Shannon Daley Memorial Fund was soon created.
Today, our organization is devoted to assisting seriously ill children and their families in financial need. Our fund-raising basketball game has become an annual event, and a summer golf outing has been created to raise additional funds. To date, we have provided more than $250,000 to the families of 10 local children who continue the fight of their lives.
Our team is comprised of approximately 70 men who volunteer their time and energies to the Shannon Daley Memorial Fund. Our sole goal is to support the less fortunate families of children suffering with illness.
It deeply touches my family that such good continues to be done in Shannon's name.
Tom Daley, President
Shannon Daley Memorial Fund